#MemoriesBeginAtMeadowbrook
Planning a baby shower? Birthday party? Bar Mitzvah? Conference? Fundraiser? Golf Outing? Meadowbrook Country Club is a timeless event space that's easily personalized to meet every occasion. The club has been doing events for over 80 years alongside our beautiful 6,419 yard private golf course.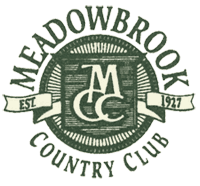 The Hall
Guests at Meadowbrook have three options when booking the hall: the bar room, main ballroom, and combining the two.
The bar room is a perfect space for an intimate gathering, with a 50 person capacity & a 20 person minimum. This room is furnished with a full service bar and floor to ceiling windows that showcase the golf course. Those that rent out the bar room have access to our outdoor deck, complete with patio heaters and a memorial garden space, perfect for activities!
The main ballroom provides a rustic elegance like no other. The fireplace in this space is accompanied by high ceilings with original wood beams. Guests may enjoy the course view through the floor to ceiling windows, a perfect spot to watch the sunset. Hard wood floors in the main ballroom allow for a spacious atmosphere for dancing or mingling. The main ballroom can occupy up to 250 people, dependent on the food service style selection, with a 50 person minimum.
Outdoor Options
Our 6,419 yard golf course provides the perfect scenery for outdoor events like golf outings and company parties!
Golf outings are a great way to create memories and have fun whether it be for a cause or a reunion! The club's facility offers 18 holes of championship golf, a complete practice facility. We will personalize your golf outing with golf cart staging, a personalized scoreboard and scorecards. Outing packages include use of all practice facilities and locker room access. Groups big or small are welcome! Please note, golf outings are open to the public. For more information on golf outings, click here (hyperlink to booklet).
Our luscious greens provide a great space for outdoor events. Please note for outdoor events, furniture must be rented and a tent is recommended.
Cuisine
Meadowbrook Country Club is proud to offer delectable cuisine in house. The culinary team at Meadowbrook Country Club offers a variety of customizable options for every meal of the day to ensure your personal touch is included in the food selection. Guests may bring in desserts of their choosing or choose from our selection. Please view our Banquet Menu Booklet, for more information.